TOURNAMENT contests are held year round throughout a nine-state area in the mid-Atlantic region. Throughout the year, you will find Tournament-sponsored events for marching band, indoor performances, parades, jazz contests, and numerous other scholastic, independent, community and organization competitions.
Tournament of Bands (TOB) provides a competitive arena for marching bands. Hundreds of bands compete in field shows from September through November.
Tournament Indoor Association (TIA) provides contests for indoor performing ensembles including dance, guard, jazz bands, marching winds, percussion, and twirlers from January through May.
National Judges Association provides highly qualified adjudicators for all Tournament events.
TOB/TIA Tournament of Bands/Tournament Indoor Association
Tournament is one of the largest competitive band/indoor organizations in the country. Founded in 1972 by the National Judges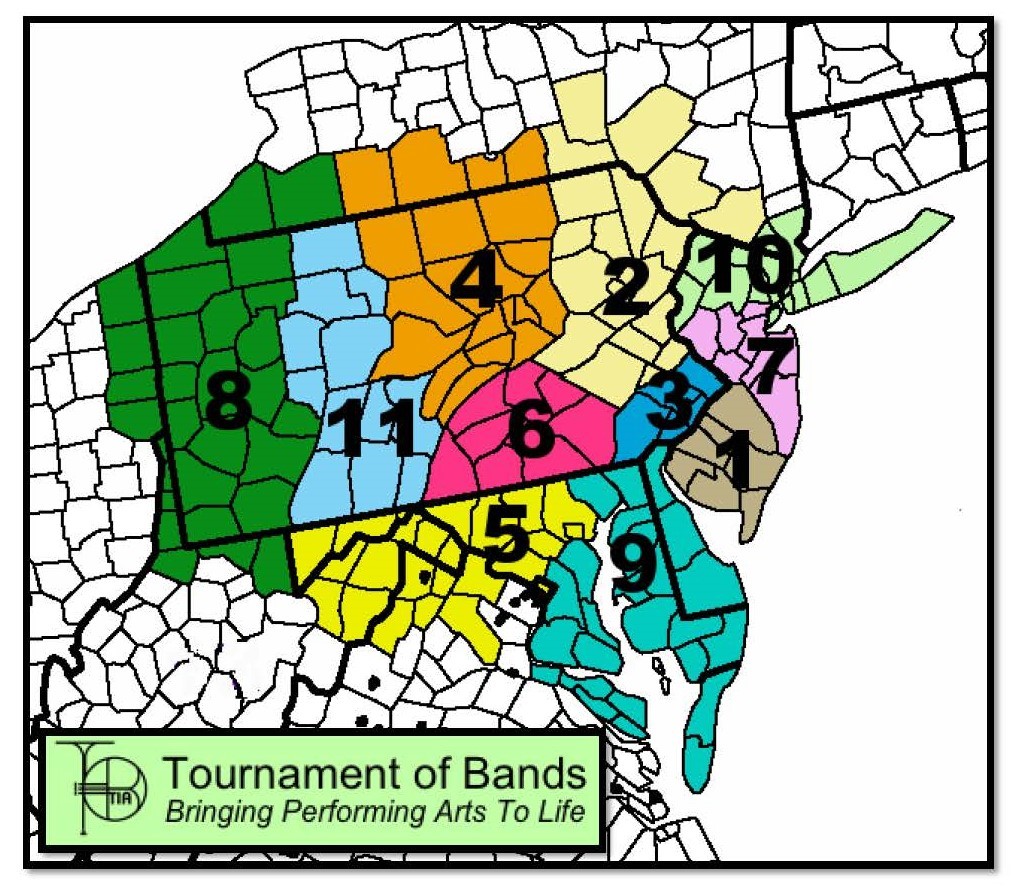 Association, Tournament has grown to over 400 active schools and organizations. Tournament provides performance opportunities in marching band, indoor guard, twirler, percussion, jazz band and dance team.
Tournament is a non-profit educational organization that is available to any middle, junior high, senior high, college or university. TOB sanctions approximately 85 marching band events and nearly 85 indoor events as well as two major championships at the conclusion of each competitive season. On any given Saturday night in the fall, TOB will have from 8-12 band competitions providing the opportunity for hundreds of students to participate in its competitive arena. On many weekends in the winter, TIA will host 4-6 competitions providing yet another opportunity for competitive events for our students.
Tournament is self-governed by an executive board elected by the members of TOB/TIA. The rules, bylaws, score sheets and the judging philosophy are all developed by the members at congresses and by participation on technical committees (music and visual).
As a member of the Tournament, you are involved in the decisions on what is important to your total program. Currently, Tournament is divided into 12 geographic regions that encompass 9 states.