NATIONAL JUDGES ASSOCIATION HALL OF FAME

Initial Induction Ceremony June 10, 2010
William "Windy" Wildemore (July 26, 1920 - June 16, 2013)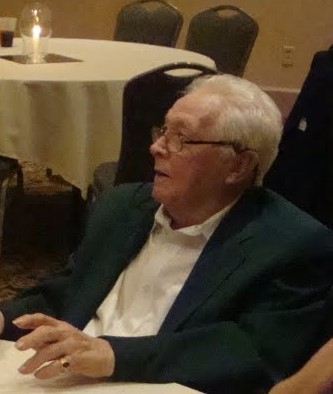 William Wildemore founder of the NATIONAL JUDGES ASSOCIATION was the first and only Hall of Fame inductee on June 12, 2010. This was a tribute to the man who created the National Judges Association in Philadelphia in 1960. The NJA served as an adjudication agency for drum corps and color guard competitions and parades. At that time there were other judging associations in the geographic area and throughout the East and Midwest. Many of them no longer exist, while NJA has consistently grown through the years. Some people were only members for a short period of time. Others have devoted many years of their lives to Association activities.
It is fitting that the National Judges Association identify and recognize those members who contributed significantly to the success of the organization over the past 50 plus years. It is in this vein that the NJA Hall of Fame was created in 2010, and that the first inductee was only one person, the founder , William "Windy" Wildemore.
The National Judges Association Hall of Fame is managed by a committee that currently includes: John Arendas (chairman), Liz Barnhart, John Bugosh, Ed Downs, George Growcott, Rick Kondziela and Jeff Ream.
ANNUAL HALL OF FAME TIMELINE
Call for nominations – early Jan. for approx. 1 month.
Voting occurs in March.
Inductees are announced in early April.
Induction Luncheon/Ceremony the second Sunday in June.
NOMINATION PROCESS
Nominations can be submitted by any current or former NJA member, or current NJA Hall of Fame member. Nominees must satisfy the eligibility criteria found below. Nominations are submitted in WORD format via e-mail to jarendas7@gmail.com.
CRITERIA FOR CONSIDERATION
Any current or former NJA member for a minimum of 15 years who has made a significant contribution to the Association through judging, administrative, supervisory, volunteering, or other service is worthy of consideration to become a Hall of Fame member. Non-members who have given extraordinary service to the NJA have been considered and elected in the past.
VOTING PROCESS
The current committee screens and discusses the nominees before they begin voting. This process is governed by established rules. To be elected, a nominee must obtain a clear majority of committee member votes. Once a preset quota has been reached, the inductee class is set.
AWARDS CEREMONY
Sunday June 9, 2019 1:00PM
Rosebank Winery
Newtown PA
Questions? Contact John Arendas at jarendas7@gmail.com
2011 National Judge Association Hall of Fame:
Mr. John B. Drummond
Mr. Harry Ginther
Mr. Robert Jacobs
Mr. William Kemmerer Jr.
Lt. Col. Gerarld Marcus
Mr. Hugh McGinnis
Mr James Prime
Mr. Lawrence "Larry" Scott
2013 National Judges Association Hall of Fame:
Mr. H. Worth Ake
Dr. Michael Culbert
Mr. Raymond Eyler
Mr. Dennis MacMullin
2014 National Judges Association Hall of Fame:
Mr. John Bugosh
Mrs. Mary Denniston
Mr, Howard (Whitey) Roberts
Mr. Phil Rothsching
Mrs. Claudette and Mr. John Wolfrom
2015 National Judges Association Hall of Fame:
Mr. John Arendas
Mrs. Elizabeth Barnhart
Mr. Thomas Bell
Mr. John Flowers
Mr. Dominic Fulginiti
Mr. Frank McCormick
Mr. Randolph Smith
Mr. Raymond Troxell
2016 National Judges Association Hall of Fame:
Mrs. Elaine Arendas
Mr. Al Bazzel
Mr. Ralph Fair
Mr. Cliff and Mrs. Joyce Fitzgerald
Mr. Rick Kondziela
Mr. Richard Ludwig
Mr. John Palm
Mr. Mike Remich
Mr. Steve Rook

2017 National Judges Association Hall of Fame:
Mr. Martin Altman
Mr. Tom Beebe
Mr. Robert Cheeseman
Mr. Dan Groth
Mr. George Growcott
Mr. Joseph Walker
2018 National Judges Association Hall of Fame:
Mr. Joseph Gabrielski
Mr. Graydon Hess
Mr. James Minster
Mr. Robert Tocci
Mrs. Deborah Washburn